The Sassi Story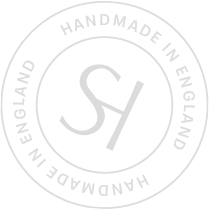 Beautiful clothes are so uplifting - the balance of the lines, the sublime cut and the luxurious fabrics. My pieces are handcrafted in England to give stylish women exceptional quality and versatile options that can be treasured for a lifetime.

About the designer
The Sassi Holford label has become synonymous with luxury fashion. Designer Sassi herself is an icon of British style and is firmly established in the high-end market through her innovative design. As well as creating award-winning and highly acclaimed bridal gowns, Sassi has made an impact on the fashion world with her classic and versatile pieces – both bespoke and ready-to-wear – that are aimed at the discerning, stylish woman.
Today Sassi's designs attract clients from across the globe, it all began in 1981 with a wedding dress that she designed for a 'friend in need'. Growing up with this love of design and a dedication to perfection, it was inevitable that the designer would soon establish her name. With a desire to produce luxury clothes for women, bridal was an obvious starting point and a decision which has led to her distinguished success.
Since the brand's launch, Sassi has celebrated many milestones and has developed the label into an influential fashion business. Alongside multiple awards, including three times Best British Bridalwear Designer, Sassi has also hit the spotlight for dressing A-list and royalty alike.
Handmade in England
With sumptuous fabrics as her muse, Sassi's exquisite designs are sophisticated, elegant and contemporary – and her instinctive eye for detail results in the famous cut, incredible fit and effortless style that makes her label so unique.
None of this would be possible without her incredible and dedicated team – many have worked with Sassi for more than ten years, and her Head Seamstress, Tina, for over 25 years. Taunton in Somerset is a beautiful place to be and is a calm setting for a company in the demanding and occasionally mad world of fashion!
Whether bridal, occasion or evening wear, the bespoke couture service from Sassi Holford produces timeless clothes to be treasured – the versatile styling providing endless possibilities for our clients' wardrobes.
Archive
Archive
Responsible
Responsible
Values and Beliefs
As a long-standing luxury label, it's important for us to take our responsibilities seriously. With a love for the industry, we are mindful of how we work. We recognise that it's about more than just style, and we are conscious of how we produce all our pieces, creating sustainable, lasting garments that go far beyond the controversy of fast fashion.
Find out More